Wildflower Seed Growers ad Harvesters:
Update; No vacancies as as of 2009
Small scale wildflower genebank growers
Commercial Wildflower Growers in Ireland

Welcome to the wildflower producers section of our web site.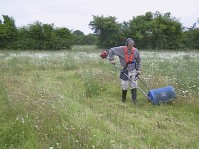 Anyone can be a wildflower grower, seed picker, harvester or assist in production, however it is hard work and requires you to be free most days during the spring if growing crops and again in summer from June 21st onward if harvesting.
Our work is an ideal lifestyle for someone who is hard working, can travel around Ireland, stay over night, and be prepared to start early.
The lifestyle is rewarding, active and suits persons with an ability to multi tasking as no two crops are the same nor is anyone day alike.
We hope in the years to come to create a web resource for Irish Wildflower Seed growers and harvesters, examples of our industry. DBN hopes to expand the knowledge from ours and your experience of the combined years of growing wildflower crops to utilise and conserve native plants.
I mention this as my story is a good starting point since I am the first in gaining market entry I had to break the mould as it was all new ground. In doing so I opened a gateway to establishment which can be followed.
So after I formulated the business in 1987, and started in 1990, it was of to Teagasc where we first brought the national collection of species that we have collected. In the Teagasc, Oakpark Research Station,. Carlow. from 1994 to1998 we grew two very colourful acres of flora had had great laughs with the scientists who often came out to see our crops and have a laugh.
I formulated a plan with Dr. Tom Thomas, to start cropping the species and do so in a technical and methodical way that could be communicated to farmers. All was over viewed by the D.A.F. and Bord Glas, there were days when we must have seemed very odd, but every body saw the possibilities and we got great support.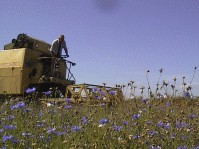 To-date the plan is still at the forefront of our training of commercial growers, and or outreach extension service aim is bring in new growers. The hard part is identifying the growers that the crops suits.
DBN pioneered this industry and is always seeking growers and farmers who are set up the produce crops and floral hay meadows. From Corn Poppy an Marigold to tall blackheads and buttercup.
So, if your thinking of starting, ask about the demands of the life style and the market you wish to supply. We can help, or not, really makes no difference, or we can arrange a grower to visit and set you up.
There are specialist markets, from wild food to additives, from seed to root, flowers or leaves...Most of the growers we have established crop the flowers for different reasons, some for tourism, others amenity, some as wildlife cash crops..
We sell many often overlooked species. Odd sales we have made include Common Rushes to stabilise soils, Wild Carrots to remove toxins from the soil, Nettles, have sold as a food source and for butterfly lovers.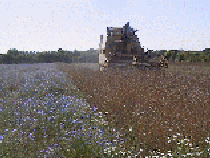 Seed harvesters and pickers:
Seed harvesters and pickers wanted throughout Ireland
DBN Seed Pledge and Grower-Producer Declaration | Seed Pickers | Conservation | Code of Practice for Collectors | Official Seed Testing Station | The Story of Seed | Biodiversity | N8 Roadside Meadow Cahir, Co Tip, Ireland. Conservation in action. | Index - Conservation Section. Why we should grow native species, how we grow them and the agreements entered to ensure they are native. | Seed Savers & Slugs
Small scale wildflower genebank growers
If you own a small plot of land about 1/2 to 1 acre and wish to grow wildflowers for DBN, we have a very interesting proposal for you. Email us and tell us about your plot. mailto:
Commercial Wildflower Growers in Ireland
DBN Seed Growers Declaration | EULA | Commercial Wildflower Growers in Ireland | Seed Germination | Species Data Pages | Seed Germination | Conservation | Extracts from Flora Locale's Seed Growers Charter and Pledge | Why Grow Native
---