Wildflower Seed Pickers and Harvesters:
In the hands of the experts
Handing down our Heritage
ADVERTISEMENT : Design By Nature is looking for Commercial Contract Growers, Small Scale Growers, and Seed Pickers to grow crops of seed and plant materials.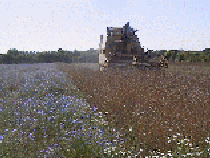 Wildflower seed pickers and harvesters send us your details and CV if you have one.
If like to work with your hands, outdoors and enjoy nature and walking, the seed harvesters way of life may suit you
Design By Nature / Irish Wildflowers
Monavea Cross, Crettyard, Carlow, Ireland
Phone 056-4442526
Public Notice: Employment Notice (seasonal, fulltime or part time work offer), Employment Terms and Conditions apply.
DBN has will supply contract details on application.
To whom it may concern.
Dear potential Wildflower Seed Picker / Wildflower Harvester.

For more than 15 years, Design by Nature has successfully harvested wildflower seed in Ireland. Most of our work is carried out by hand, 'hand crafted'.
This achievement is remarkable in that Ireland is internationally known as a difficult climate to produce the seeds of many species in.
We specialise in harvesting native species that have adapted to local conditions. These species are then sold into specific markets.  We have customers who want flowers from there ancestral home to the state sector who may wish to re-establish a rare flora damaged by a new road.
The work of a wildflower harvester is to gather seeds with respect the complexities of specific species from specific sites that are intended for specific markets. 

The skill of the picker is all in the identifying and timing and care of harvesting and drying. If like to work with your hands, outdoors and enjoy nature and walking, the seed harvesters' way of life may suit you. The harvester has to be able to identify species, pick at the optimum time and have capacity to store and dry the seeds. DBN requires wildflower harvester in the following areas:
Cork and Kerry. South Clare. The Burren. The Aran Islands. Galway. The Shannon Callows. Mayo and Connemara. Boyle Sligo and Leitrim. Donegal. Roscommon. West Meath and Meath and The border Counties.

Remuneration and hours:
Wildflower seed Harvesters and Pickers earn between Euro 7.00 and Euro 14.00 per hour from May to October, with the bulk of the work in July, August and September. Hours are flexible.

Examples:
From a two hour walk one regular picker harvests  Eur 2,000 for 90 days work. Another couple harvest about Eur 7000 per summer for about 40 days hard work.
This couple then more on to harvesting other seed species for other companies.
Our highest paid farmer is earning about EUR 7000, but on average farmers are getting about Eur 570 per H.A.
Payment is issued on account or by special arrangement on delivery or collection.
 
Please contact Mr Sandro Cafolla at the above address
 
History:
When we started picking native seeds, there had not been flower seed producers for over one hundred years in Ireland.
Our skills were hard leant, and we are still learning, the following account is our most recent advice for you as you set out to harvest another generation of native Irish flora.
Please provide feed back at all stages, of your experience.

Handing down our Heritage
DBN Native Species Declaration | Extracts from