Conservation:
Why Grow Native?
Also on this page: Give sanctuary to another generation of native plant
Why Grow Native?
In Ireland we have only 1200 wild and naturalised plants of which >300 are endangered with extinction, indeed some have gone extinct (mainly cornfield annuals).
Wildflowers grow and complete there life cycle in accordance to local conditions and soil / light conditions, therefore Fauna and other flora will symbiotically time there own growing and life cycles to the plant species.
In short: Species like butterflies that depend on flowers will live out it's life cycle in accordance to the time of growth and flowering. Non native plants even of the same species often flower at different times to the local native species, even two weeks out can make the difference between life and death.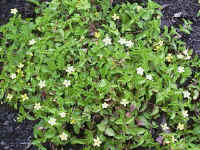 Fractal genetic information: Basic biology teaches us that plants form the primary building blocks for all life. Plants also provide the materials for many other important functions.
But native species are most important because they contain specific local genotype information suited to the specific environment in which they occur, so that they can survive in that local specific environment.

As our understanding of genetics increases, we are learning that the patterns of nature as described as 'fractal information' that repeat themselves time and time again, in such a way, that the genes of native plant species are the only truly naturally evolving species encoded with a wide enough genetic make up, as too allow them to change as the climate and environment changes.
So why do they go extinct ? Because today, we can change there environment in a day, with a chemical spray, a machine, a sudden and non sustainable economic derived change of farming practice. Wildflower need some time.....................
When you grow Irish seed you give sanctuary to another generation of native plants. Why? because every year when you grow a true native species, it is another year for that species to be conserved in your area, and that goes for the specific Fauna that depends on it.
Your efforts will directly contribute to the benefit of nature and Biodiversity in Ireland.
Your purchase will also assist DBN (Ire) in helping to protect native flora through our work, such as this extensive web site, EduCat and our outreach to County Councils, roadside planners and the landscape design Sector. Many of our long term customers support us because they trust us to do the job. i.e. save wildflowers from extinction. And we are doing our best. That is why this site is so comprehensive and caters for everybody.
Wildflower growing is relatively new to Ireland and well worthwhile as it protects Biodiversity, nature and our environment (the place in which we live).
The general Irish horticultural public and many in the Industry are not aware why native species are vital for nature conservation, please save this site to your favourites list and send the link to your friends and colleagues.
See also Seed Growers Pledge Plant highest quality seed available of the variety from a reliable source
Design By Nature Environmental Statement
Return to top: Top
Return to conservation index: Index