What the Blogs say about our open day
Wildflower Growers Open Day.
A Talk and Open Day Walk in 4 h.a of crops.
Host: Mr Sandro Cafolla (Design By Nature) A talk on growing wildflowers. the results of 20 years research
Date: Wed/ 30th July / 2014
(this is not a family friendly outing, as there will be little to do for kids and lots of boring professional chat)
Meet at 10.00 / 10.30 am at Mary Willies Car park Urlingford. Co Tipperary. (Off the old N8 south of Urlingford)
DBN staff will direct traffic in small / groups numbers to the site and parking in the large field is free.
DAFM/Bord Bia/Teagesc RDP Annex 1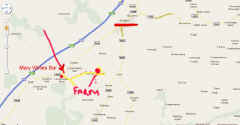 click to open and print map