Sandro's Irish Wildflower Conservation Grade Seed Mixture:
Range: Wild Flower Mixtures (Code WF)
Product Name: Tidy-Town, Avenues and Approach roads (Full sun to light-shade)
Product Code: WF04
If purchasing this seed mix, print or save this page and keep it as your reference as the species and advice change occasionally.
Especially made for Tidy Town Associations and Groups
This mixture is for customers who wish to sow lanes, roadside verges and avenues often with dappled or semi shade, full sun or rich top soil.
WF04 is for entrances to town and villages, new rural houses, newly planted tree lined avenues, rural roadside & hedges.
This mixture can be scattered and raked into recent repair work on country roads, where tractors and trucks have destroyed the margin.
WF04 will improve and enrich raw soil, take the bare look of any situation, and tolerate the many changing temperatures of a typical Irish Summer. If wet, included are species that will flourish even in standing water. If bone dry, never mind, there is a bunch of species to cope.
WF04 is a colourful, wildlife attracting mix and can be cut once in spring or cut in June to control rank grasses just as the first flush of flower finishes flowering or cut at the end of summer in Autumn if everything is normal and well behaved.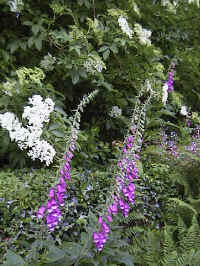 Species List: WF04
Bladder Campion
Bluebell
Birdsfoot Trefoil
Corn Marigold
Corn Poppy
Corncockle
Cornflower
Cowslip
Cow Parsley
Feverfew
Field Scabious
Foxglove
Hedge Garlic Mustard
Hemp Agrimony
Lesser Knapweed
Marjoram
Meadowsweet
Mullein
Ox-eye Daisy
Purple Toadflax
Ragged Robin
Red Bartsia
Red Campion
Red Clover
Ribwort Plantain
St Johnswort
Upright Hedge Parsley
Sorrel
Wild Angelica
Wild Carrot
Yarrow
Yellow Flag Iris
Yellow Rattle
Yellow Agrimony
Dames Violet
Greater Celandine
White Bedstraw
Burdock
Product Warning: While this Ecotype mixture contains the seed of edible and herbal species, DBN recommend that this mixture is not for human or animal consumption as it contains species such as Corncockle and Foxglove which are toxic if ingested. Greater Celandine contains an alkaloid reported to cure warts but is equally reported to burn skin.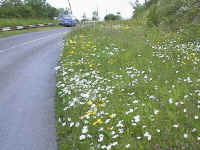 Seed Mixture Specifications:
Origin: Native Irish Origin, Wildflower Seed Mixture.
Moisture Level: Dry, Normal, Moist.
pH range: Best between 5.5 >7.5
Aspect: Sunny, light shade and not deeply shaded.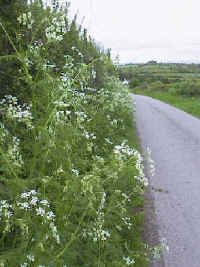 WF04 will suit Tidy Town Associations as it can be cut anytime, and if cut to 20cm, 6 or 8 weeks before the judges arrive it will have recovered enough to be in flower and still hide what ever it was intended to hide.
Seed Sowing Rates:
Normal sowing rate 'without added grass seed':1.5 grams per metre.
High sowing rate 'without added grass seed': Add 3 grams per metre.
Low sowing rate: None