Sandro's Irish Wildflower Conservation Grade Seed Mixture:
Range: Wild Flower Mixtures (Code GF)
Product Name: All-Ireland Pollinator Plan Wildflower Mixture (Tolerates semi-shade)
Product Code: GF03
If purchasing this seed mix, print or save this page and keep it as your reference as the species and advice change occasionally
Description:
This Biodiverse All-Ireland Pollinator Plan Wildflower Mixture mixture contains some of the very best wildflowers that will attract wildlife in abundance. Most especially GF03 attracts bumble bees and other beneficial garden insects. hoverflies are abundant in first year.
If required for bees only cut this mixture twice per year, if for birds, allow at least the back to remain uncut in winter, and cut down the following spring before growth starts.
GF03 is a special mixture for any normal soil, moist or dry. but will perform best where there is some soil/moisture retention and the soil doesn't dry out too fast,
Suitable for most soils that are not overly acid or alkaline.
Tolerates semi-shade
GF03 is not intended to be sown on very wet soils, as we have more suitable mixtures
GF03 is our best butterfly attracting wildflower seed mixture esp' for 16 summer Butterfly species.
In Ireland there are 32 native butterflies, this mixture is designed to attract 16 of the more common species.
GF03 Wildflowers can be planted as a meadow or in a bed, ideally it is best planted in an open situation where the butterflies will bask in the sun.
Mixture Specifications:
pH range: Suits all soils. more to the moist range.
Aspect: Sunny
Life Cycle: Contains Cornfield Annuals, Perennials and Biennials .
Height Range: 40cm - 160cm
Flowering Period: May to September.
Fertility Range: Will grow on any soil, the less fertile the soil, the less cutting will be required.
Wintergreen: Moderate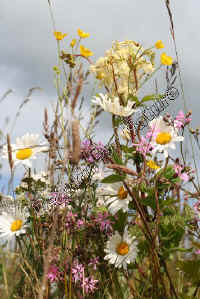 This photograph is one day in the life of an ever changing meadow.
Species List:
Birdsfoot Trefoil, Black Meddick, Cowslip, Devil's Bit Scabious, Meadow Buttercup, Field Scabious, Hemp Agrimony, Kidney Vetch, Lady's Bedstraw, Lady's Ann lace, Lesser Knapweed, Meadowsweet, Mullein, Ox-eye Daisy, Purple Loosestrife, Ragged Robin, Red Campion, Red Clover, Ribwort Plantain, Rough Hawksbit, Sorrel, St Johnswort, Wild Angelica, Wild Carrot, Yarrow, Yellow Agrimony, Yellow Rattle, Teasel and more.
Also includes 35% annuals: Corn Marigold, Corn Poppy, Corncockle, Cornflower, Scented Mayweed,
Seed Sowing Rates:
Normal sowing rates:
Pure wildflowers - no grass, 1.5 grams per metre.
Added grass seed: 1.5 grams per metre (depending on grass species).
Your purchase: Contributes to DBN's work of creating crops of Conservation Grade - Native Origin Wild flora. You help us to inform and pay land-owners to manage native species and to assist DBN in handing on our heritage for another generation.
By growing (some will be difficult) these and all other species, you directly help to conserve national and global Biodiversity especially pollinators. In protecting wildlife you should also consider yourself another Irish wildflower grower.
Last updated on 26/07/2017
Email: info@wildflowers.ie