Wildflower Mixtures mixed with Grass Seed

At Design By Nature we supply mixtures with or without grass seed. While any grade one grass mixture will grow with wildflora we supply a mix that is specially designed to grow with our wildflora. Our Low percentage grass mixture will remain 'open' if properly maintained to allow room for the wildflora to grow.

The use of grasses and wildflowers is not recommended to sow on very small areas as the grasses will tend to outgrow the flowers.

Do not sow under 1/8 - 1/4 acre it is not worth it.

Cutting Wildflowers mixed with grass seed

If sown before May grasses will need to be cut at least three times in the first year during summer. Alas, that means you will not get many flowers, but grasses are ideal for certain spaces, such as parks, erosion control, roadsides ,cuts, embankments and large open spaces.

In year One, Cut the grass, but allow to flower in mid July-Aug into September.

Cut in May, June and September. Grasses will need to be cut at least three times in the first year during summer, so you will not have many annuals flowering.

On fertile soils mixtures with grasses may have to be cut regularly in the second year so again you may not have many flowers .

By the third year grass sown meadows look very much like non grass sown meadows so it may not have been worth sowing grasses in the first place.

Grasses mixed with wildflowers are very useful in certain situations especially on sloping ground, golf courses and roadsides.

Wherever grasses are sown extra attention must be given after a meadow is cut. You must remove the cut grass off the meadow and you must then rake or reverse harrow the surface of the meadow to remove the dead grass and to scratch the soil to allow wildflower seeds to germinate. If you do not carry out this maintenance the flowers will not reappear the following year.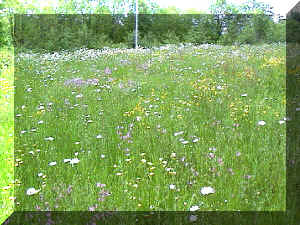 Please note there is no ideal grass to flora ratio, each site is different. Grass to flowers seed mixtures should be chosen according to the use and condition of the site