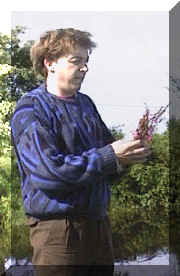 Our work as seed growers is to rediscover, utilise and conserve native plant species.
Our aim is to hand on our heritage, protect Biodiversity and to pass on our experiences to help you grow wildflowers as well.
It is as easy as clean soil sow and reap the reward.
Web site author: Mr Sandro Cafolla.
An Irish Wildflower Grower (not a web designer, but I try).
Mr. Sandro Cafolla, self taught environmental designer. I have often been asked how and why I started working with wildflowers, so for what its worth...............
My first involvement with plants was in my parents garden, My mother kept the flowers and grew veggies and my father kept the lawn and grew more veggies, I started growing Hollyhocks and Sunflowers, which grew twice as high as me and I was captivated by growing things. During my teenage years I picked wildflowers to make wine for the family and messed about with healing herbs such as Yarrow, Comfrey and Borage. I grew all the vegetables and soon took over growing the crops for my families daily salad bowl.
My experience in landscape design started when I was a landscaper in South Dublin many moons ago. I started professional gardening, at a time when there were still old style head gardeners and apprentices. Not that I was an apprentice, instead I was brought in to make drastic changes, dig up the 'veggie' plots, prune back totally overgrown shrubs and tidy up every leaf and keep every edge straight. In doing such work I realised that gardening was not about pleasure but control of the landscape, especially male control. I was one of the first Dublin landscapers to put curving edges in to suburban gardens. Often the 'man of the house' would come home and freak out at the changes, but after some explanation of the cost saving I was allowed create a more 'dare I say feminine' gardens. You see, straight edges are high cost to maintain and demand the most work to keep fresh, curved edges require a lot less work and if left unmanaged still look good.
It was in these controlled gardens that I realised that nature had no chance, against the weed killers and the sterile condition's. If I could prove things on cost I would get much more work.
But nature's creatures will visit the most formal garden so why were so many wild creatures missing.
Birds while abundant in some gardens were totally lacking in others. Mainly because of the lack of food and water. since then the boom in garden water features has helped bring birds to many more gardens but many important food sources are still not present to feed the birds and wildlife.
Search or visit pages; DBN Gardening Web Home Page
I did not study horticulture at any collage. At that time there were no courses available that suited my aims. Instead of studying landscape design, at the time there were no wildflower landscaper courses, even today they are few and far between,
At the age of 19 years I had started my own business and was relatively successful by the age of 21, so I expanded into Organic Compost, designing organic gardens and having our own supply of composted seaweed and spent mushroom compost. Mackey's Garden Centre was one of my first customers.
Rhonda Smith was involved in those days and we noticed the number of Organic Gardeners, about 30% of all our customers were growing there own food. Realising the market demand in 1983 we set up designing and installing organic and wildlife gardens. During all that time I was very aware of the benefit of herbs and wildflowers so I expanded our knowledge into native trees and native wildflowers, but you couldn't get them. The more I searched the harder it was to find even Irish bred plant species,.
By 1986 I was fully aware of the need to set up native plant species supplies, at the same time I organised a Permaculture Design Course with Richard Webb, Landscape designer. We brought over designers from the USA who gave a very intensive Permaculture design / environmental design course for three weeks. The course was preceded and followed with years of study. In 1988 I finished the first of many wildflower business plans and the rest resulted in the story behind this web site.
Simple Guide to Growing Wildflowers
Go on choose Design By Nature for seeds, plants, advice and design.

Press release Index-centre