About us, staff and CV (see CV below)
Mr. Sandro Cafolla T/a Design By Nature (Est' 1990)
We are Ireland's Premier Wildflower Growers. The only truly authentic wildflower seed grower in Ireland
Design By Nature: DBN is a micro SME business, concentrating on the art of craft horticulture and heritage conservation.
DBN is a Department of Agriculture, Food and the Marine, (DAFM) Registered Native Sourced Irish Wildflower Seed Grower, Harvester,
Supplier, Processor, Mixer and Packer DAFM Registered No: IECS-44
We are the first conservation business to wholly supply native species and remain the Market Leader after 35 years.
We are the only seed company in the world to guarantee its seed products for 3 years.
Our aim is to make it easy for you and to stand by you as you endeavor to grow wildflowers.
We supply Trade and Public alike. our CV below show a huge range of different customers
Customer include: The Government of Ireland: DBN has been consulted on many national projects, or supplied product and advice to: NDP, NPWS, Duchas, OPW, An Foras Forbirtha, DAFM, ESB, Bord Gáis, Coillte, Irish Waterways, D.O.E. VEC. FAS. INTO, NRA and Bord Gas, to name a few.
Works include national infrastructure design, parks and roadside projects and other major works some of which listed elsewhere on this web site.
All Ireland's leading Landscape Contractors and Architects are customers and many often regularly purchases from DBN. We have provided our 'Educat' services to many firms and agencies, to assist in growing our products and managing the landscape for nature.
Started in 1990, 'Design By Nature' gets its name from our work to protect nature through flora and esp' in Horticulture..
We are committed conservationists who use business as a channel to carry out our activities,
of saving plant species from extinction, instead of being a charity, we are in business to act independently and as free thinkers. All our customers support our conservation works.

We are the only Irish company to start up, specialising, solely in growing native sourced Irish wildflowers,
with a mission to earn profit not for its own sake, but to generate funds for our work of nature - plant conservation.
We co-founded the start of genetic conservation and biodiversity protection, the organic movement and the Alliance for Safety and Health, prior to the establishment of the HSE.
We believe in the right to a fulfilling livelihood - to do best, what we believe in most, and practice what we preach.
We farm and garden crops both organically and conventionally and use very low inputs of non-organic materials, always tending to more sustainability than less. If we recommend using herbicides it will be only short term to establish chemical free systems.
You can trust our products and services, as we have photographed and displayed the results of all aspects of seed growing and of our nature conservation protects and are well known as an innovators and have established many downstream areas of trade in the horticulture industry.
Today the industry we pioneered, employs hundreds of professionals from scientists to eco gardeners and in many other fields. indeed there are now a number of higher education routes into this industry. Such is our success that many other countries wildflower industries has copied our mixtures and products.
Core Staff:
Mr. Sandro Cafolla the owner manager of DBN, has worked as a 'self educated' self-employed horticulturist and wildflower grower and sustainable ecosystem designer since 1976. Sandro is the business manager, marketer, sales person and chief harvester.
Sandro's advice is called in on a daily basis by the entire industry "Where ever I go, I see an opportunity to utilise and conserve native species. Biodiversity protection demands a value for flora,
I put flora where it has uses, saving time or maintenance, saving species or simply just saving an uncommon or rare plant, I grow them for beauty, but most of all to teach about the diversity that's in a meadow.
June Treacy joined in 2005 - financial controller and administrates the business back office accounts. June has many years experience in Administration, HR and Sales.
Monica Fleming joined DBN in 1994, and has worked ever since as our resident Horticulturalist.
Monica is fully qualified in many aspects of horticulture and practices rare species conservation and seed harvesting and cleaning.
Martin Rice Joined fulltime in 2015, Trained BY DBN.
Niall Wallis National Botanic Gardens - Teagasc, Joined 2017
Joe Furlong Drumcollagher Hort Grad. Joined 2019
Molly Aylesbury Drumcollagher Hort Grad. Joined 2021
General Operatives, seasonal staff not included.
DBN also engages commercial growers, with whom we jointly grow all our crops
CV 1976 to present: to name drop just a few
2023 We continued to supply many bluechip firms and gardening or landscape customers, MSD sowed our seeds on many of their sites throughout Ireland. Keelings farm wildflower promotion reached about 100,000 people with our seed giveaway.
The web - our new web was abandoned after the web firm went bust during covid, so we have re-commissioned another frim to build our web in 2023.
2022 - Another record sales year. 5 in a row, DBN has managed the increase in trade with investment, increased capability and staff training, our collaboration with farmers and buyers is also moving at pace.
DBN extended our crops and premises size to meet the rising demand, installing new rigs, machinery, tunnels, storage and 10 new species, which we never before had in large scale production.
2019-2023 SEEDTECH, Waterford, We have helped Seedtech establish wildflower crops and cleaning trials. both firms are working together to improve production and increase the number and volume of species availability.
2020-2021, During the pandemic years we were extremely busy, we broke all records for customer numbers and created new sales records.
2020, Best ever advance sales orders
'Imithe', National Living Gene-bank program for U.N decade of Ecosystems Restoration 2021-30
Supervalu, free seed to 3500 primary schools with 'Imithe' for a 'Save the Bees' Campaign.
Sandro keynote wildflower speaker at GDLA conference
NEW web, Built in 1997, Allgowild.com, re-launcehd in 2001 as Wildflowers.ie.
Wildflowers.ie has since had 3 million Irish hits. The new web is build with wordpress
and launches Spring 2020.
2019, Busiest trade year ever.. doubled our customer numbers,
Projects
Central Mental Remedial Hospital Land reclamation, coastal defenses and Biodiversity
SPODS, New product Launch, encapsulated seeds.
Imithe, Re-Launch, National Living Gene-bank program
Supplying seed to large scale government institution, locally sourcing some materials.
160 professionals and gardeners attend 3 x farm walk open days on our wildflower farm.
Powerstown land cap, 70,000m sown in 4 work days.
Seed supplier to the Bride Project
We gave 50% sponsorship to the Tipp Co Co free give-away to 1000 farmers.
Donegal West EDUCAT tidy-towns project
Bride Agri Project seed supplier
2018 thousands of customers, a few noticeable include:
NPWS Galway
Kildare Co Co
Cork City Council
Wexford Co Co
Teagasc Research plots for farm Biodiversity
Sisk
OPW Phoenix park
OPW Clare Galway flood relief
OPW Mayo
Kilkenny Caslte
JFK
Glenveigh National park
Dunlaoire Rathdown CoCo
Coillte
Clare Co Co
Ballymore Homes
Airfield
Wildflower growing talks in Winter 17/18 to TII, Transport Infrastructure Ireland Tidy-towns Judges, 
and Teagasc Alternative farming. 
2017.
Will Bros Dargle flood relief
Teagasc Astown, National Botanic Garden students Y3 & Y1 start wildflower growing module, lesson 1 workshop and sowing demo, by Sandro Cafolla.
Wildflower seed sowing at Lisheen Mine, for Vedanta, Via Feidhlim Harty 
Seed and advice supply, 3rd year to Kilkenny Castle
Seed and advice supply, OPW, Flood relief schemes across Ireland
Seed research supply o seed to Teagasc Oakpark, Pollinator project
Seed supply to Wills Brothers. SAP, P.O'Briens and many landscape or civil contractors
Seed supply and sowing Maynooth University Biodiversity Project
Seed supply and sowing O'Brien Fine Foods, Pollinator and Biodiversity Project
Seed supply and sowing Wyeth Pharma (ongoing)
Seed supply GlanBia
Seed Supply Glenveigh Education Centre
Seed Supply to many City and County Councils
590 private gardens supplied with native seed

2016. Seed Supplier to Teagasc / EU / Biodiversity Research Project re Biodiversity and Native Flora
Seed, advice and services to : 
Ballymore Homes
Intel Ireland
GlanBia
Waterways Ireland
ESB International
450 private gardens supplied with native seed
2015.
Supply and Planting of locally sourced seed and bog plants to the Corrib Onshore pipeline.
Subcontracting to Roadbridge and Sepil via EACS and Jenny Neff.
Sowing even more Wildflower on the M9 Carlow Bypass. Client Kildare CoCo and Peter o'Brien l/s
Supply Dunlaoire Co Council, First Supplied in1994
Supply and Sow, Jazz Pharma Athlone, for Sisk Building contractors
2014 List of profile wildflower sowings
Filmed by 'Ear to the Ground' Kilkenny Castle sown in 2011
Apple facility. Cork.

Kilkenny waterworks

Dublin City Council

Kildare Co Council, ongoing projects

Fota Island Wildlife Park

Waterways Ireland Project

Doolin Cave, ongoing

Borris house

Irish National Stud

Lough Boora - Bord na Mona

Wyeth Nestle biodiversity sowing at Limerick facility

Blarney Castle Ongoing projects
2014 Bespoke works for specialist clients
Corrib Gas Pipeline
2013 List of profile wildflower sowings for
Kilkenny Castle

Blarney Castle

JFK arboretum

IDL, storage facilityN2 link road roundabouts

Swords By Pass Roundabouts

M1 interchange

M9 Carlow By Pass, specialist wildflower / landscape tender

Our latest challenge...DBN Wildflowers on the M9 Carlow bypass section

Cork Airport

Kildare Biodiversity projects

Limerick Biodiversity Project

Blainrow Golf Course, Wicklow

Nass Golf Club
2012: Secret garden RTE TV gardening and RTE Radio,
Coolmoney Camp, Glen of Imaal Artillery Range headquarters,a wildflower sowing for The Irish ArmySupplied seed to parks in Dublin Areas, Fingal and Limerick. Supplied design advice and seeds to parks, roads, community projects. Very poor harvest year, wet weather destroyed many crops. Conservation works for private clients includes Tuam Waterworks, as design, seed and plant supplier.
2011: Great seed harvest year, 1st wildflower open day, DBN open field crops up for public viewing , Many sites sown.
2010: Supply of Seed To Fingal, South Dublin and many other Co Councils.
Belvedere house garden talks
Doonbeg golf course
Dublin zoo seed and plant supply
Seed supply to Mr Middleton mail order gardening
Castletown House, wildflower meadows
Limerick City Council wildflower meadows
Landtech soils, roof garden mixtures
Waterford Co Co. Dungarven landfill seed supply
2009: DBN helps establish Quickcrop with advice, they even copied our seed mats.
2009: Seed supplied to Waterways Ireland
2009: The Eden project, UK
2009: Moate of Ardscull park, is regarded as the best wildflower meadow of '09.
2009: DBN was awarded grant aid assistance from Bord Bia, (formally board Glás). The Award was for a small grant towards web development and marketing.
2009: Seed supply To WEE Energy recycling Project
2008: DBN sows largest roadside to date in Ireland for N8 Cullahill to Cashel. Finds rare annual Chamomile and Cornflower growing on disturbed soil on roadside, seed is collect and re-propagated, vigour of both species very poor
2008: DBN supplies Post Bank seed giveaway
2008: DBN sows NPWS esker Ridge Banagher, SSI, highely specilist conservation works
2007. DBN starts constructing phase 3 of our new web site.
2006. DBN finishes its new seed house.
2006. DBN completes the first stage of the layout of 14 acres of landscape gardens at Ballintubbert House and Heritage Gardens, Co Laois
2006. DBN Supplies and landscapes St Johns Wood, Stradbally, Co Waterford, a housing estate of thatched cottages.
2005. DBN Supplies Seed and advice to Kilkenny Bypass, and Flood relief Scheme.
2005. DBN Supplies Seed to Kerry earth project
2005. DBN Supplies Design To Nano Nagle centre, Limerick.
2005. DBN Supplies Seed to UCD Belfield, Reed bed trials.
2005. DBN Supplies Seed to Newbridge Tidy Town Association.
2005. DBN Supplies Seed and advice to Tymon Park, Co. Dublin.
2005. DBN supplies Elma Fenton with Flora for Chelsea Garden.
2004. DBN supplies seed to Sligo by-pass.
2004: DBN Supplies 2nd phase to M50 Motorway,
2004. DBN Supplies Seed to Blarney Castle
2004. Best New Product. Kildare growers trade show.
2003: DBN supplies wildflower seed mixtures to South Eastern Motorway.
Sandro address INTO teachers conference on Children and the Environment.
2003: DBN supplies, Plants to Kew Gardens Biodiversity Garden.
2003: DBN supplies seeds to Huston Station, Dublin.
DBN supplies flora for a meadow for E.P.A. Environmental Protection Agency, Johnstown, Co Wexford.
DBN supplies flora for Knockranny Castle Hotel, Westport. Co Mayo,
DBN supplies flora for St Bridits Garden, Due open 2004,
DBN supplies flora for Duchas Newgrange, National Heritage Centre.
2003 DBN supplies seeds for Muskerry Golf Course,
DBN supplies flora for Coolmore Stud,
2002: Year 2002 is the worst weather year for harvesting seeds, since the start up of DBN in 1990, yet we won another harvest.
DBN supplies flora for Millennium Industrial Park, Naas.
DBN contracted to supply Luas line with site specific native local flora.
DBN supplies flora for Knocksink woods.
DBN supplies flora for Ferrybank, Cliff top planting in Waterford.
DBN start work on SEM50 collecting native flora and sowing embankments.
DBN supplies Duchas / Battle of the Boyne Field Second phase of project started 2001
June 2002 DBN attends opening of Irish Hunger Memorial Garden, to which we supplied advice, plants and seeds New York Times
2002 DBN supplies flora for Muskerry Golf Course
Sandro address INTO teachers conference on Children and the Environment
DBN supplies flora for Belleek Castle, Co Mayo
DBN supplies flora for research project for UCD and Teagasc.
DBN supplies flora for Landfill site at Powerstown. Carlow.
March 01 2002: DBN launches www.wildflowers.ie
Willow Design and DBN create new trade agreement and end of joint venture 25/05/2002
DBN supplied wildflowers for the Award winning Celtic garden at The Royal Horticultural Society's Chelsea Flower show 2002
2002; Re-Awarded Contract to Supply QVC TV St. Patrick's Day Irish Sales Day for 4th year in a row. QVC TV THE WORLDS LARGEST RETAILER
2002: Supplier to Battery Park City Irish Memorial Hunger Garden New York,
2001 update. ARLES National School wins National Schools gardening competition. DBN are the designers of the main feature in the school
2000 -2001; Sandro writes chapters in many publications such as Landscaping Landfill sites for the EPA.
2000 DBN supplies seed for Cabinteely Park;s - New wildflower meadow
2001 AND 2002: Client; Duchas: Supply seed mix for the Battle of the Boyne Heritage Fields
2001; Re-Awarded Contract to Supply QVC TV St. Patrick's Day Irish Sales Day for 3rd year in a row. QVC TV THE WORLDS LARGEST RETAILER
2001: Client; Duchas: Supplier of National Annual Gene Bank Seed Collections to Glenveigh National Park, Annual Gene Bank
2001 Client; Duchas: Supply seed mix for Dundalk seaside reclamation and road project
2000; Client; Maynooth Fisheries. Sow pond edges plants and seed, Site heavily trampled
Submissions; Green 2000, D.A.F. / Biodiversity, Cornflower Response.
2000: RTE Nationwide feature on business activities.
2000: Re-Awarded Contract to Supply QVC TV St. Patrick's Day Irish Sales Day for 2nd year in a row. QVC TV THE WORLDS LARGEST RETAILER
1999: Full page feature Cork/Irish Examiner for the launch of the first Mallow Garden festival. DBN attended many garden festivals in the late 1990's
1999: Willow Design and DBN. Awarded Contract to Supply QVC TV St. Patrick's Day Irish Sales Day . QVC TV THE WORLDS LARGEST RETAILER.
Bord Bia (Horizons Food Marketing Trade Show 1997, with Images to represent Irelands 4 Billion food trade)
1997; Assisted European runner up 'Schools Wildlife Garden Project' with Cabinteely Girls School.
1997: Radio 1 Science and Technology Program on DBN and our roll in the business of Biodiversity.
1996: Products on Late Late Show Enterprise Program.
1996 Client; Old head of Kinsale Golf Course, after much debate we decided to take on a difficult job, under difficult circumstances, see the results for yourself, not properly maintained but surviving difficult conditions
1995: Well known Irish patron awards DBN a no interest capital sum to fund growth.
1995: Joint Venture with Willow Design and Publishing captures global market for High Quality Giftware and is recognised as a market leader.
1995 Client; Duchas: Sow roof garden, National Heritage Centre, Dunbonye, Co Meath at Newgrange. site left uncut
1994: Joint Venture formed with Willow Design & Publishing to export market seed filled greeting cards and giftware.
START OF TRIALS OF WILDFLOWERS AT OAK PARK RESEARCH STATION 1994-98 Ref Dr. Tom Thomas.
#1992: Co founder of Genetic Resources Trust, Irish Organic Growers & Alliance for Safety & Health. Anita Hayes of The Irish Seed Savers, Charlie Spillane and Sandro, Meet in Sandro's Home to prepare a talk on the importance of plant Biodiversity prior to the Rio Earth Summit The presentation (slides and a talk by Sandro) is brought to the Department of Agriculture. After the meeting the Genetic Resources Trust gets the official backing of the Department and the Trust is launched. The Dept' agree to move Sandro and all his plants into the Oakpark research station.
Corporate clients include Shell Ireland (Seed, script and images to 3500 schools). QVC TV, Timotea Shampoo and many others
1990: Design By Nature Market Entry:
1988: Design By Nature Start Up. R&D Phase. National Collection of wildflowers is made of over 180 different species all tested in the gardens of many patrons
1988: Design By Nature find EEC grant for the conservation of species and notifies Dr. Tom Curtis (wildlife Service) about 118,000 ECU.
Trinity Collage's Botanical Department get the grant, at the start of the Irish Genetic Resources Conservation Trust.
1988. Design with Dr. M. Tuberty for the First Irish Blue Flag Award in Ireland for Killiney Beach, South Dublin.
1988; The Cornflower Response is Published with assistance from V.E.C & Mr. Steven Rekab of the Sage.
The Cornflower Response is a paper on our intention to grow native species and wildflowers for conservation and Utilisation.
Published to ENFO and given to all governments departments, we got few replies, But Parks and Wildlife did comment and we had meetings.
The out come is Not to im[port species, which we still do not unless a crop fails or we are trying to re-establish extinct species.
Following publication of RED DATA Book Design By Nature alert public to the decline of native flora in Ireland. Design by Nature publishes (The Cornflower Response), ##. The Conservation and Utilisation of Wild flora. Our Document of intent to work with native flora.
The Cornflower Response is sent to over 200 botanists and environmental groups, Government Departments and NGO's. In the report we ask for a response to our intent to utilise native flora and we seek advice.
Only two replies are forthcoming,
1) Dr Tom Curtis. Senior botanist with then forestry and Wildlife Service, O.P.W. now Duchas. Dr Curtis raised the concept of not importing non native seeds.
2) Dr Donal Synnot. Later appointed Director of National Botanic Gardens, Glasnevin. Dr Synnot suggests that since Native Flora are being imported anyway its best that we grow crops only from Irish sourced seed.
Both Botanists would prefer if the flora of Ireland was not endangered and that we did not need to tamper with landscape. We still inform both Botanists of our work.
Galway Arts Festival Meadow parade.
Avondale Bark mulch Product Designer.
Wavin (Ire). First European outdoor Industrial Safety and Health landscape design.
EDUCAT;
The Wildflower & Environmental Outreach Education Service
Design by Nature's Wildflower Education and Training Service Catalogue.
Launched at 7th March 1987 with European Year of Environment 1987.
Funded By E.U. Environmental Training. 1990-92. Initial funding through SAGE, City of Dublin VEC. 1988,
Talk attendance and Trainees to date ; 34,000 , at Gardening Festivals & Clubs, to societies, senior level D.A.F. staff and most universities and horticultural collages including ANCO, FAS, VEC & Teagasc and botanical students.

Awards won by clients helped by EDUCAT;
Winners of Nations in Bloom (under 10000 Category),
Ford Conservation Awards,
NI Amenity Council Best Kept Award,
Ulster in Bloom,
Britain in Bloom, AIB Better Ireland.
1st E.U. Blue Ribbon Beech Award 1997-98
& Queen Mother's Birthday award ,
Trade; Blue Ribbon New Product Awards 1995, & 96,1998;
member of team receives E.U./VEC Adult Education Teaching Certificate.
1987 European Year of the Environment
Permaculture Bookmark / link to below
Hosted the first Irish Permaculture course with R. Webb.
Tutor Dan Hemingway
Course 3 weeks, covered Permaculture Design, LETS. Aquaculture Design. Forestry, Sustainable landscape planning, Urban Gardening and much more.
Introduction of Lets, wildflower growing, Permaculture & Green Cities To Ireland.
1986 Co founder of Irish Organic Growers.
1985 Sandro moves from Dublin to current location and establishes nursery.
1984 Selling organic compost and designing nature Friendly gardens.
1983 - Co founder of Alliance for Safety & Health. Sandro produces first ever report on the toxic chemical industry of Northern Ireland and identifies toxic dumps. Report presented at the first meeting of Alliance for Safety & Health at UCC.
1981 Belfast A Collective.
1980 -1981 Anti-Uranium Mining activist.
1978 -1981 Anti-nuclear activist at Carnsore festival. see RTE new archive on our social media website,
1976 Sandro Cafolla while at school, starts commercial gardening in South Dublin and notices the lack of wildlife friendly plants in gardens that have been landscaped.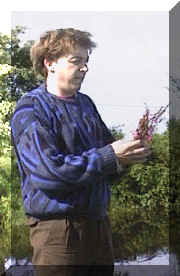 Sandros family were for 3 generations in business in Ireland, Scotland and Italy.